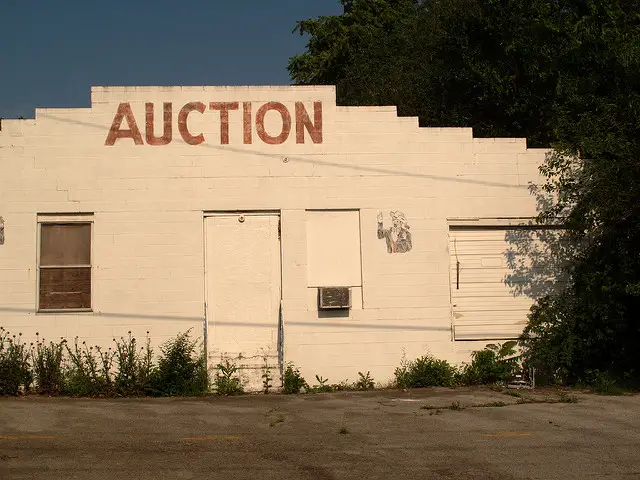 In these times of economic uncertainty, many people are looking to cut costs wherever possible. So as pressure on pocket books continues to mount, highly resourceful household CEOs have begun visiting local auction houses for great deals on … groceries.
That's not a typo, folks. There are actual auction houses out there that specialize and entertain competitive bidding on everyday groceries like Fruit Loops, mayonnaise, chicken pot pies, Hamburger Helper, milk, baked beans, canned corn, and peanut butter. In fact, those who are willing to buy vegetables in dented cans or other items that are slightly beyond their sell-by date can save money on groceries by as much as 90%.
By the way, those who are leery of buying "expired" products should know that there is generally no prohibition against the sale of food past its sell- or use-by dates. That's because those dates are simply manufacturer guidelines regarding the rotation of shelf stock or period of best quality. As a result, most auction houses guarantee the quality of the goods they are selling, regardless of sell-by dates.
Of course, not all items at a grocery auction are in less-than-perfect condition; many are simply overstocks from grocery stores.
Some grocery auctions even sell perishables like meat and dairy products, including ice cream. And it's also not uncommon for grocery auctions to sell non-edible items that you can usually find at grocery stores such as cleaning supplies, and paper towels.
If you plan on attending a grocery auction, keep the following tips in mind:
Make sure you do your research! Know the grocery store price of any item you are bidding on so you don't get caught up in the excitement and end up overpaying.
Some items are sold by the pallet or case. Make sure you are aware of how many items are in a particular bulk package to ensure you do not overpay on a per-item basis.
If you do plan on buying perishables, make sure you bring a cooler chest!
Check beforehand to see if your grocery auction house accepts credit cards and/or food stamps. Many do, but others do not.
If you're interested in finding a grocery auction in your area, consider trying a website like AuctionZip. Here's how: In the keywords section, type "grocery" (without the quotes). Then enter your zip code and select how far from your home you'd be willing to travel. If you're having trouble finding an auction near you, simply choose "Any" and you should see plenty of them pop up.
Oh … and here's one final bit of advice: Have fun! After all, you're saving a lot of money.
Photo Credit: urbanwoodchuck