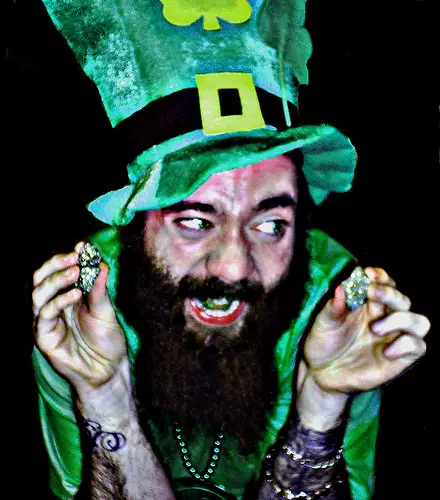 Here is my St. Patrick's Day variation on a very old story that has been passed down and around and back again.
The Leprechaun and the Lamborghini
One day, not too long ago, a leprechaun disguised as a businessman walked into a bank in New York City and asked for the loan officer.
He told the loan officer that he was going to Ireland for two weeks and needed to borrow $5,000. The banker replied that they could help him, but first the bank would need some form of security for the loan.
So the leprechaun handed over the keys to a brand new Lamborghini parked in front of the bank, along with the title and other proper paperwork. With the proper paperwork in hand, the loan officer readily accepted the car as collateral for the loan and then bid the Irishman a safe journey.
The leprechaun was barely out the door when the bank's president and loan officers burst out laughing, enjoying a good laugh at the folly of using a $350,000 Lamborghini as collateral against a $5,000 loan.
Soon after, an employee of the bank dutifully drove the Lamborghini into the bank's underground garage and parked it there, safe and secure. Two weeks later, the leprechaun returned to the bank, repaid the money he had borrowed, including $12.91 in interest.
The loan officer said, "Sir, we are very happy to have served you and this transaction has worked out very nicely, but all of us here at the bank are a bit perplexed. You see, while you were away we did a full background check on you and discovered that you're actually a leprechaun. What puzzles us is, not that you are a leprechaun, because we all know that leprechaun's exist. No, what really intrigues us is why would a leprechaun bother to borrow $5,000 when everybody knows they own a fortune in gold?"
To which the leprechaun replied: "Well, laddy, where else in New York City could I park my car for $12.91 and expect it to be there when I return?"
Photo Credit: faith goble