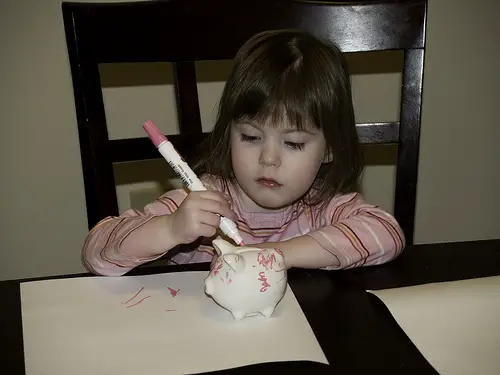 Before my kids, Matthew and Nina, became teenagers I conducted a little experiment in order to ascertain their sophistication level regarding money by conducting a loan interview with the Bank of Dad.
Not surprisingly, I learned that my kids were rookies in the world of personal finance and money management — so, to help them out, I decided to teach them the art of bookkeeping. Yes, really!
For managing personal finances, a single-entry system such as a checking account register is all that is required. For many years my kids used a slightly modified — and very simple — system specifically geared for their needs.
I could have had my kids use spreadsheet software, but I insisted on an old-school approach: They each got their own small composition book for use as a ledger. And for many years they used their ledgers to successfully manage their finances.
Here's how it worked:
Instead of getting a fixed allowance each week, my kids had a list of chores that they were responsible for doing. Some chores could be done on a daily basis, others less often. Each chore had a "wage" assigned to it. For example, making the bed was worth a quarter, pulling weeds was worth two bucks, etc.
When the kids completed a chore on the list, they entered the activity into their personal ledger book in black ink. The entry was then initialed by either Mom or Dad; our signature not only ensured quality control — for example, was the bed really made, or were the covers just thrown over the top of the bed? — but also guarded against phantom entries being recorded into the books.
Each composition book was divided into six columns as shown in the example below. Inside the front cover of the ledger was a list of their chores and the corresponding pay for each task — this is to avoid any disputes between, um, employees and management.

This ledger gave my kids an up-to-the-minute accounting of their current financial situation. Whenever Matthew or Nina made a withdrawal, they entered the amount of money they wanted in their ledger's debit column using red ink. The kids were then promptly paid by The Bank of Dad. Upon payment they were also asked to sign their names on the ledger sheet to verify that they received the money.
To encourage saving, I gave my kids a 25% bonus on the last day of each month on the net money saved for the month, after withdrawals. The windfall was recorded as a "savings bonus."
To encourage responsible borrowing, my kids were also permitted to withdraw more money than they had in their account — in essence, a loan from the Bank of Dad. However, I also charged 25% interest on their outstanding negative balance. The first interest payment was applied on the last day of each month, starting with the first full month they had a negative balance.
For example, if Matthew took out a loan on any day in, say, April that left him with a negative balance, he was given until the end of May to get back into the black and avoid an interest penalty. If not, I'd mark his ledger with a nasty interest charge.
And that's all there is to it.
Because bookkeeping requires nothing more than basic addition and subtraction skills it can be done by kids as young as six- or seven-years-old. In fact, Nina was just nine-years old when she started — and she got the hang of it very quickly.
My kids are in their late teens now and no longer use their ledgers, but that's okay; the experiment served its purpose.
My daughter always took great pride in keeping her ledger balance in the black; my son, not so much.
To this day, Matthew still has trouble saving money — but he does fully understand the financial ramifications of borrowing. And I'm absolutely certain that wouldn't be true if he hadn't kept a ledger when he was younger.
Photo Credit: James Thompson