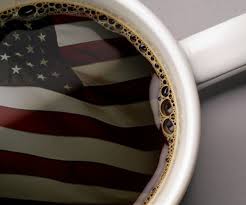 It's time to sit back, relax and enjoy a little joe …
Welcome to another rousing edition of Black Coffee, your off-beat weekly round-up of what's been going on in the world of money and personal finance.
It's a holiday weekend, so let's get right to it …
"Bull markets are born in pessimism, grow on skepticism, mature on optimism, and die on euphoria."
— John Templeton
"To see victory only when it is within the ken of the herd is not the acme of excellence."
— Sun Tzu
"There are no markets anymore; only interventions."
— Chris Powell
Credits and Debits
Credit: Stocks have been in a bull market for eight years. So, with that in mind, how long did it take the S&P 500 to return to its peak inflation-adjusted level after each of the four biggest market crashes in the last 90+ years? The answer is: decades. That's probably tolerable if you're a Millennial. It's a different story though for Baby Boomers and Gen-Xers.
Debit: Did you see this? More than one in every three Chicago city workers made $100,000 last year — or higher — including 36 who topped the mayor's $216,210 salary. Wow. That's your tax dollars at work, folks. Well … at least for people living in the Windy City. Hey … I wonder if they think they're getting their money's worth. The taxpayers, that is — not the city's employees.
Credit: In other news, housing market analyst, Mark Hanson, reminds us that, "If everybody had to buy a house with a 30-year fixed, fully-documented mortgage and 20% down, (then) house prices would never detach from the end-user, shelter-buyer employment and income fundamentals." True. Unfortunately, they don't — which is why they do.
Debit: In fact, Hansen points out that house prices and economic fundamentals have never been further apart in key, economically significant cities. "You can blame speculation, leverage and ridiculously easy credit standards," he says. Uh huh. And I'll give you three guesses on which entity is to blame for that. (Psst. The first two don't count.)
Debit: The housing market is so out of whack right now, the latest data indicates that prices in 80% of US cities grew twice as fast as wages. Although, if Chicago's municipal payroll is any indication, I have to assume that data is based solely upon private sector wages.
Debit: You can thank the decision of colluding central banks around the world to implement quantitative easing (QE) for those frothy real estate markets. Unfortunately, QE — and the resulting low interest rates it spawns — hasn't fueled real growth. However, it has managed to buy an illusory feel-good economy that only simulates ever-increasing wealth via multiple asset bubbles.
Debit: Even worse, central banks' coordinated decade-long QE campaign has distorted the bond market so badly that its corresponding price signals have been rendered almost meaningless. It's like trying to navigate across a massive ocean of liquidity fraught with disastrous financial reefs along the way, without GPS — or a compass and sextant.
Debit: By the way, when the central bankers aren't buying bonds, they're purchasing equities. Take the Swiss National Bank (SNB), for instance: During the past 14 months, it has spent $4 billion on five of the biggest US social media/tech stocks (Apple, Alphabet, Microsoft, Amazon and Facebook). Of course, the SNB's intervention is distorting the prices of those assets too.
Credit: For his part, Matt King says QE, along with inexpensive exchange traded funds (ETFs), have conspired to create an unstable one-way market where, "The combination of global credit growth and QE has created such a sustained bull market in many asset classes that investors are inevitably concluding that their best trade is simply to close their eyes and go long in the cheapest way possible." Ya think?
Credit: The trouble is, herd-buying in a bull market is easy. But as Dealbreaker notes, it'll be a different story when the markets finally turn: "The idea that nothing too bad will happen when sentiment reverses rests on the possibly dubious assumption that what has become a one-way market on the way up will miraculously revert to a two-way market on the way down." Very true; you can't sell if nobody wants to buy.
Credit: Frankly, America's role as the center of the financial universe is almost over. At least for a little while. As Alasdair Macleod notes, "The US economy is sluggish relative to the rest of the world, Asia's rise from which America is excluded is unstoppable, geopolitics are shifting away from US global dominance, and the end is in sight for (the petrodollar)." All very true, Alasdair — but we still have Chuck Norris.
Credit: Meanwhile, Dave Kranzler suggests that the record level of household debt accumulated since 2010 is finally starting to take its toll. Why? Because data shows that the populace has lost its capacity to take on new debt without quickly going into default on the existing debt they still owe. In other words: the majority of consumers are tapped out.
Debit: Kranzler may be right — especially if companies that depend on consumer loans to sell their products are any indication. For example, flagging sales has resulted in Fordabandoning traditional credit scoring criteria to determine which car buyers are eligible for financing. Yes, it's a reckless policy — but the "good" news is it will keep the dollar-based monetary system Ponzi scheme going a little longer!
Debit: Believe it or not, according to the Wall Street Journal: "(Ford's) pricing on all new vehicles may include up to $1500 in finance rebates, (but) you must be below 620 to qualify. If you're over 620 you must add up to $1500 to the price." No, really. Talk about something straight out of Alice In Wonderland; the financial world truly has gone utterly mad. The only question is: When will it finally self-destruct?
By the Numbers
Last week, Hurricane Harvey made landfall in Texas as the most powerful storm to hit the continental US in more than a decade.
3 The number of times Harvey has made landfall since August 25th — once as a hurricane and twice more as a tropical storm.
52 Inches of rain recorded at Cedar Bayou on the outskirts of Houston in just under five days — a record for the heaviest rainfall for a storm in the continental US.
80 The percentage of Texans who don't have flood insurance.
900 The number of calls pouring in per hour to emergency centers around Houston at the height of the disaster.
10,000 The number of people rescued by federal forces through August 30th.
24,000 The number of National Guard troops from Texas and other states deployed to assist in relief efforts.
120,000 The number of residents without water in Beaumont, Texas, on Thursday.
300,000 The estimated number of Texans without power on Thursday, according to FEMA.
$215,000,000,000 The estimated economic impact in terms of damage, destruction and lost output.
20,000,000,000,000 Gallons of rain that fell on the Houston area after Harvey came ashore. That is enough water to supply New York City's needs for more than 50 years.
Source: ABC News
Insider Notes: Bitcoin vs. Precious Metals
Hey! You need to be an Insider to view this section! If you'd like to join, please click "Insider Membership" at the top of my blog page.
Last Week's Poll Results
Have you ever loaned money to a friend or relative and not been paid back?
More than 1200 Len Penzo dot Com readers responded to last week's question, and it turns out that more than three in five of those who gave a loan to a friend or family member didn't get at least a portion of their money back. Huh. Imagine that.
The Question of the Week
Loading ...
Other Useless News
Programming note: Unlike most blogs, I'm always open for the weekend here at Len Penzo dot Com. There's a fresh new article waiting for you every Saturday afternoon. At least there should be. If not, somebody call 9-1-1.
Hey! If you happen to enjoy what you're reading — or not — please don't forget to:
1. Click on that Like button in the sidebar to your right and become a fan of Len Penzo dot Com on Facebook!
2. Make sure you follow me on Twitter!
3. Don't forget to subscribe via email too! Thank you.
And last, but not least …
4. Consider becoming a Len Penzo dot Com Insider!
Letters, I Get Letters
Every week I feature the most interesting question or comment — assuming I get one, that is. And folks who are lucky enough to have the only question in the mailbag get their letter highlighted here whether it's interesting or not! You can reach out to me at: Len@LenPenzo.com
After reading last week's Black Coffee focusing on Fort Knox the importance of gold, Curtis wrote in to question my logic, which included this warning:
You can't eat gold, Mr. Penzo!
True … So why don't you share some of your favorite fiat dollar recipes with the rest of us?
I'm Len Penzo and I approved this message.
Photo Credit: Community Coffee