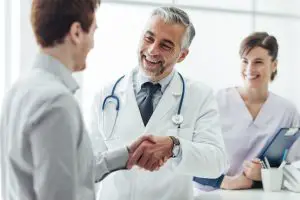 Employee retention is one of the biggest issues in the healthcare industry, particularly at the executive level, and many hospitals are struggling to keep their staff on board. This has only increased in recent years with the changes to medical care coming from the White House.
One of the biggest issues affecting these facilities is that the operating margins are shrinking in the face of reimbursement and regulatory uncertainty, and CEOs are taking the fall.
So far, according to Janis Orlowski, Chief Healthcare Officer for the Association of American Medical Colleges, 30 medium-to-large hospitals have lost their CEOs in the last six months. Many were ousted due to the financial challenges their organizations are facing.
"That's an increase in turnover, probably a reflection of the current volatility of the healthcare market. Many hospitals are losing money now and the future only looks rockier, with more uninsured and less Medicaid support. Boards want the right person to lead them into such turbulent times," said Orlowski.
To succeed in the today's volatile healthcare market, CEOs need to stay ahead of change and keep engaged in their work, not just make sure that the organization is financially stable, Orlowski believes.
The engagement part is a key factor, experts are saying, particularly author and consultant Craig Deao.
"Organizations must create an environment that actively engages employees," he said. "If not, the best ones will leave. Or, perhaps worse, they'll 'quit on the job' but stay for the benefits."
Deao believes that healthcare leaders must accept that engagement is a "must have" leadership quality amongst their top staff, and that they need to shape their hiring practices around it. Hiring the right people is a critical part of the industry, especially when times are volatile. A poor investment in personnel can cost a company a great deal of money.
Which means other industries, like the polymer companies that have been working alongside hospitals to provide sanitized floorings for more than 35 years, will suffer. If there's no money coming in, there are no expansions, which means less equipment, fewer additions to the building, and fewer floors being installed.
It affects many other industries along the way and doesn't just apply to hospitals, either. Hiring the right people is key to a company's success and expansion.
Deao believes that a company should be incredibly thorough when hiring, having a great deal of follow-through.
"Interviews at 30-, 60- and 90-day intervals will make sure expectations are being met, the job it is a good fit and they have clearly defined goals and the tools to accomplish them," said Deao.
With changes coming again to the healthcare industry under the Trump Administration, it is presently unknown what impacts will be made on the employee turnover rates, if any.
Photo Credit: stock photo