It's hard to believe, but August is finally upon us. Of course, for most folks that means it's time to celebrate National Goat Cheese month. That is, unless you're one of the millions of kids who would rather lament the fact that the first day of the new school year is right around the corner.
Of course, the start of the new school year means financially savvy parents will be making sandwiches for the kids' brown bag lunches. And why not? In most cases, those homemade sandwiches are more economical than buying lunch at the school cafeteria.
That being said, some sandwiches are more economical than others, as the results of my third annual brown bag sandwich price survey clearly shows.
How the Survey Was Conducted
That's right. For the third year in row, I actually walked down to my local grocery store and then recorded the per-serving costs of various ingredients for ten of the most common brown bag sandwiches: peanut butter & jelly; bologna; tuna; ham & Swiss; roast beef & cheddar; egg salad; salami; American cheese; turkey; and bacon, lettuce & tomato. (Yes, folks, I realize I need to get a life.)
This year, a nosy shopper in the condiment aisle noticed me taking price and serving size information off the applicable product labels and price tags. "Are you one of those secret shoppers?" she asked.
"No, I'm doing a price survey for a personal finance blog," I said.
"Oh! You mean like The Simple Dollar?"
"Yes, except mine is called Len Penzo dot Com."
"Lead pencil dot com? I'll be sure to check it out."
"Hey, that would be great! Thank you!"
Come on, folks. Can you really blame me for just letting it go? But I digress.
Anyway, as in my past sandwich surveys, for consistency in determining prices of the individual sandwich ingredients, I only selected items with the cheapest per unit costs, regardless of brand. To keep it simple, I also assumed all sandwiches would be made with wheat bread.
Survey Results
Here are the results of my price survey, conducted July 30, 2011. The first graphic shows the sandwich serving sizes and per-serving costs for each ingredient. It also includes the percentage increase or decrease in the per-serving price of each item from last year's survey: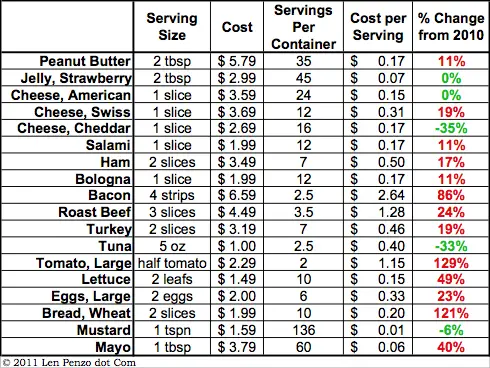 With that data in hand, and using my handy spreadsheet, it was no effort at all to determine the most economical sandwiches.
Here are the official Len Penzo dot Com rankings of the ten most economical brown bag sandwiches in 2011. Ranking are based upon total ingredient unit costs, from least to most expensive:

Now I realize that some people don't use any spreads at all. I also understand that some folks enjoy two or three slices of bologna. And I know lettuce and tomato can be placed on sandwiches other than a BLT. If you make your sandwiches differently, you can simply look at my shopping survey numbers in the top figure and adjust the sandwich costs in the bottom chart accordingly.
Observations and Tips
– Those clamoring for signs of inflation need look no further. Aided by big increases for bread, mayo, and lunch meat, prices rose significantly this year for nine of the ten sandwiches in the survey.   The total price for all ten sandwiches rose 44% over the previous year.
– For the third consecutive year, salami holds the honor of being the most economical sandwich.
– Tuna moved up two places in the survey to number 6. It was also the only sandwich to see a price drop from the previous year.
– The conventional wisdom out there is that bologna is a very expensive lunch meat. But as this survey proves yet again, a bologna sandwich is one of the most economical sandwiches you can make. Maybe it's also why bologna sales tend to spike during poor economic times.
– If you're like me and love to put tomatoes on a sandwich, you can save significant money by growing your own. Best of all, they taste much better than anything you can buy from your grocer.
– You can save money on ham lunch meat by buying a small whole ham and having the butcher slice it up.
– You can save money by avoiding name brands and buying the store-brand cheeses, condiments, and lunch meats instead. As my blind taste tests have proven, sometimes it's tough to tell the difference.
– Primarily due to an 86% increase in the price of bacon, and a 129% increase in the price of tomatoes, the cost of a BLT almost doubled this year to $4.20 per sandwich. Even so, that's still cheaper than going out for lunch.
– Oh, and there's no need to hold the mayo. At a miserly six cents per serving, it adds very little to the cost of a sandwich. Likewise for the mustard; one serving costs but a single cent. Hey, who says you can't buy anything for a penny anymore?
Photo Credit: katsuma