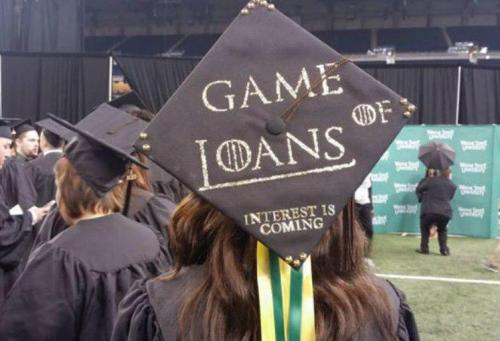 Refinancing is a term many people are familiar with when it comes to auto loans and mortgages. It's a relatively common process that helps Americans lower their payments and get better terms. But did you know that you may also be able to refinance your student loans? Yes, you really can!
By refinancing your student loans, you may be able to save thousands of dollars over the course of the loan and ultimately pay it off sooner.
As the cost of college dramatically increases, an increasing number of people are needing financial assistance to afford tuition. While student loans give millions of people the opportunity to obtain their degree every year, the payments can quickly become unmanageable. Fortunately, if you're having trouble maintaining your monthly payments, or find that your interest rates are higher than you originally thought, refinancing might be an option for you.
What is Student Loan Refinancing?
Refinancing student loans is the process of paying an older debt by taking on a new loan with different terms. There are many ways that refinancing can be beneficial — especially if you're struggling with your payments, or are just looking for a better deal, whether it's lower interest rates, changing existing terms, or a new repayment plan.
One reason people choose to refinance a loan is to get a better interest rate. By taking out a new loan through a different lender, you have the opportunity to start with fresh terms and get a better deal. This can get tricky once you start comparing numbers, however, as interest rates can vary depending on the length of the loan and the rate you receive. In most cases, every student loan refinancing lender offers different interest rates.
What Kind of New Interest Rate Can I Get?
Student loan interest rates can have variable or fixed rates, depending on your creditworthiness. A refinanced fixed-interest-rate student loan is one where the interest rate stays the same during the entire life of the loan. This means that you'll always pay the same amount each month. As a result, you'll know exactly the amount of interest that will accrue over the years and you can calculate how much you'll end up paying over the course of the loan. Fixed rate loans can be more challenging to obtain, but they also provide peace of mind many people desire when making big financial decisions.
On the other hand, variable rate loans have interest rates that fluctuate over time and align with prevailing market interest rates. They generally start with a lower rate in the beginning than a fixed loa — but due to their ever-changing nature, they may end up having a higher rate down the line. These loans are a bit riskier to take on, but they are typically slightly easier to obtain, and they could be a good option if your credit score isn't the best, or you lack the financial stability other lenders require.
Who Offers Student Loan Refinancing?
Many banks and private lenders are willing to work with students who wish to refinance, but they often have a strict underwriting process to protect themselves from taking unnecessary risks. Loan providers want proof that you have a steady job with a good salary, as well as a solid credit history; this is to assure them that you're going to be a responsible borrower who will pay back the loan.
If you lack a lengthy credit history, some new lenders are often willing to consider other financial factors in order to see if you can meet their lending requirements. This could include looking at your income and debt-to-income ratio, or even looking at your degree and where you studied to determine how much of a risk you would be.
Ultimately, only you can decide if refinancing your student loans will be beneficial to you. Whether you currently have a high-interest rate loan, or cosigners you no longer wish to be on your loan, it could be in your best interest to find a reputable student loan servicer and discuss your options.
Of course, as it is with any big financial decision, before you decide to refinance your student loans, just make sure you do your research first.
Photo Credit: zerohedge