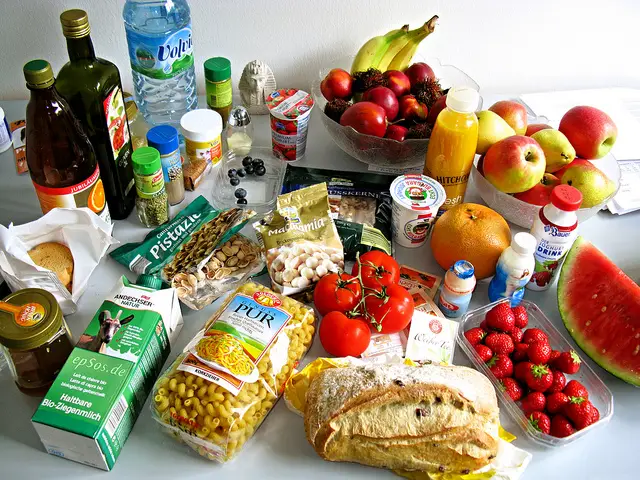 If there's one resolution you stay on top of this year, spending less on groceries and reducing food waste should be it. To help you get started, and to keep you on track throughout the year, consider these tips for getting the most from your groceries:
Know What's on Sale
Instead of blindly going to the grocery store when the fridge is empty, plan your shopping trip by consulting your grocers' sales flyer; you can generally find them online at their respective websites these days.
"It's always a good idea to check out what sales your grocery store is offering, and then base your meal plans off that," says mommy-blogger Kate Trout. "So if ground beef is on sale, plan two meals, maybe one with tacos and another with hamburgers."
Leverage BOGO Deals
Take advantage of those buy-one-get-one deals at your grocer when they come along. There's no harm in picking up extras you know you'll eat when the price is slashed in half.
"A buy one, get one sale is essentially offering 50% off that grocery item," Trout advises. "It's a no-brainer strategy that not enough people follow."
Make Meals With Leftovers in Mind
Before you pull out your pots and pans, plan a meal that will feed your family for a few days. You'll stretch your food budget by making your groceries go the extra mile, and you'll save a ton of time since all the prep work will be done for the week.
Teri Gault, CEO of The Grocery Game, does leftovers on purpose and with a plan — something she calls "Dinner Times Three."
"For example: Dinner number one is not one, but two roasted chickens with side dishes; dinner number two is chicken tacos from the leftover chicken; and dinner number three is chicken pot pie with the leftover chicken and vegetables from dinner number one," she explains. "No one knows they're eating leftovers and you get the most out of your groceries, with the least prep."
Double the Recipe
Whether you're making a one-dish meal that can feed a crowd — or just a very hungry family of four — why not double the recipe so you can eat one now and freeze the other for later? This practice helps you use up ingredients before they expire, and you'll have meals for days as a result. This may sound similar to Gault's previous tip of making dinner with leftovers in mind, but there's a difference: prep and storage.
"Any time you cook a casserole, soup, pot of chili, lasagna, or similar one-pot dish, always prepare double," she suggests. "It's just as easy to prepare double as it is to prepare one, and it has two advantages: it provides a pre-made dinner for those busy nights you don't feel like cooking, and it avoids waste when you have ingredients with bigger packages than you need for one recipe."
Brush Up on Your Food-Storage Skills
So many of us throw grocery in the trash because they spoiled in the fridge or pantry, but if we learned how to store our food better, it can last longer, and we'll save more.
For instance, Gault says your pantry shouldn't be against an outside wall where temperatures could get hot in the summer. "By the same token, don't store seasonings near the oven or stove, as they won't last as long," she says. "And don't store eggs in the door tray where temperatures fluctuate too much, or milk in the front of the fridge for the same reason. If you're in doubt, drop the egg in water. If there is a stream of bubbles or if it floats, it's a goner."
Add Apps
Personally, I love my shopping apps, especially the cash-back ones like Ibotta and Checkout 51. I made nearly $100 on just those two apps alone last year, but there are other options to help you stack the savings too; Paribus and Dosh are two examples.
Shop at Night
According to Trout you should do your grocery shopping at night. "That's when you can find a lot of the best deals in the meat department," she says.
Why? It's simple: Meat has a very limited shelf life, so grocers are forced to move it at lightning speed to make room for fresher cuts the next morning.
Invest in a Vacuum Sealer
Usually, buying in bulk offers a better value dollar-for-dollar. But what will you do with all that bulk food once you get it?
"I used to shun the idea of another gadget," Gault admits. "But vacuum sealers are fantastic for getting the most out of your groceries. Value packs of meat can be divided into usable portions and frozen without freezer burn indefinitely. You can also vacuum seal leftovers and have a smorgasbord one night for dinner, 'fresh' from your freezer."
Have a Plan
Just like you should never go grocery shopping when you're hungry, you should never go grocery shopping without a plan.
"If you go to the grocery store without a detailed shopping list, chances are, you're going to overspend," Trout warns. "If you know exactly which items you need to buy, which items are on sale, and what your budget is, then you'll get in and out without spending more than you planned."
Photo Credit: epSos.de