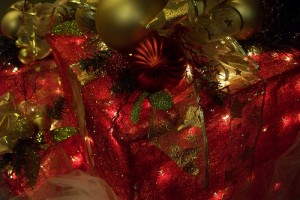 If you missed Part 1 of this series, click here.
One of the best gifts you can give or receive is something that was handmade with love. The special touches, time and effort that go into DIY projects let everyone know they're important to you. If you're crafty but not creative and have a hard time coming up with projects, here are some easy DIYs to get you started:
Miniature Terrarium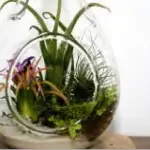 Air plants are perfect for making small terrariums because they get their nutrients from the sun and air, and they don't root like most other greenery.
Take a small glass container and fill the bottom with a bit of soil. While the plants don't need soil, it gives you something to help anchor them in place. Take some moss and press it into your container on top of the soil, tearing a small hole in it to place your plant in. Gently press your plant into the hole in the moss. You can also skip the moss altogether and opt for decorative rocks instead.
Etched Cutting Boards
This project requires a little more effort and care than the other projects on this list, but the end result is totally worth it. To get started, you'll need some wood cutting boards and a wood burner.
Freehand the design you want. It could be something simple, such as triangles around the edges or something more intricate like a family name — imagine what a great custom gift that would be!
Using the wood burner, carefully carve your design into the board, taking care not to touch the tip of the wood burner to your skin. Once finished, top your etched cutting board with a bow, and it's ready to be gifted.
Decorative Bottle Stoppers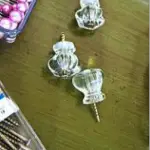 Combine fancy drawer pulls with cork stoppers to create a beautiful bottle stopper friends will use over and over. Start by marking the center of the cork so you can see where your screw will need to be placed. Then, dab the end of the screw with glue, and begin twisting into the cork until the pull is secure.
Leather Tool Holder
If you have a good piece of leather you're not sure how to use, fear no more!
With your piece leather-side down, carefully fold up a section on the bottom about five inches high. Use some tacky glue so you can keep that flap in place while you sew — this will be the main pocket.
Using a leather needle, sew the edges of that flap to create a pouch. Then, measure out even sections along the pouch to create individual pockets.
DIY Picnic Basket
Make a picnic basket ready to hold everything your favorite person likes to take on trips. Starting with a basket with a hinged lid, cut pieces of elastic and use a strong glue, such as E-6000, to attach the ends to the basket. Make sure the elastic bands are snug enough to hold whatever items or utensils will be stored there.
Use thick fabric thread to sew a button onto the front upper half of your basket. Then, get some elastic and attach it in a loop to the front bottom half. Make sure the elastic can reach the button, and use it to make sure your basket stays securely closed. Allow everything to dry, and fill the basket with goodies!
Stenciled Pillow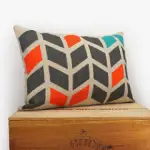 Who doesn't love a good throw pillow? They're perfect for adding a little extra something to a space. Making stenciled pillow cases is an ideal gift for friends who love to decorate.
Using sharpies or fabric paint, carefully stencil out your design. Allow it to dry before flipping it over to the other side. If bleed-through is a concern, place a piece of cardboard inside the pillowcase as you work.
Star Wars Light Switch
This easy-to-make light switch is perfect for friends who are crazy about Star Wars. All that's required for this project is a sharpie. Draw a line to divide the light switch cover into two sides: light and dark. You can decorate the light switch covers with two different options: Luke and Vader for your light side/dark side battle, or Jedi and Sith. Give your friends a choice in the ongoing battle against evil, and as always, may the force be with you.
Sharpie Mugs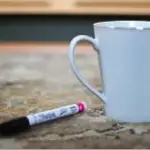 Creating a one-of-a-kind gift is just a cheap mug and a sharpie away! While there's some debate on how to best make your design stay, there is one thing that all DIYers who have completed this project agree on: You want to use the cheapest mug you can find. Good news, right?
Cheaper mugs will allow the design to bake into the enamel when you put them in the oven. Oil based sharpies are different than the regular formula sharpies, and some say they work better.
Before starting, wipe your mug down with vinegar and dry. Then, you're ready to start creating your design. Allow your design to dry, put the mug in the oven and preheat the oven to 425 degrees F.
Once your oven reaches that temperature, set a timer for 30 minutes. When the timer runs down, turn off the oven and leave the mug inside to cool completely.
Cinnamon Nutmeg Candle
Candles make a great gift anytime of the year, but they're especially ideal for the holiday season. While these delicious-smelling candles will make you want to get crazy with the eggnog, don't go overboard — too much nutmeg can get you hooked.
To make these gorgeous cinnamon nutmeg candles, start by melting your wax in a double boiler. Then stir in a teaspoon of ground cinnamon and a teaspoon of ground nutmeg. Add essential oil of nutmeg and clove until you can smell the fragrance easily. Stir until the spices are mixed in.
While everything is mixing together, glue your wick into the bottom of your candle container. When the glue dries, carefully pour the melted wax around your wick and allow your candle to dry overnight.
Whatever DIY products you undertake this holiday season, your loved ones are sure to be pleased. Remember that what makes gifts special is the thoughtfulness and effort put into them. Don't worry if your crafts don't turn out perfect — it's the thought that counts.
Photo Credit: sociotard