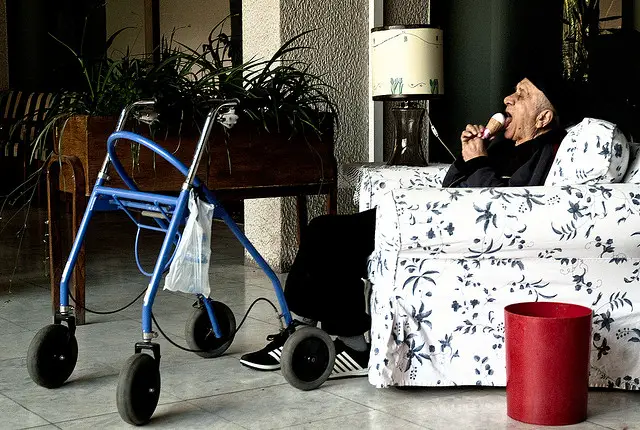 We all dread the day when we may be faced with making important life decisions on behalf of our aging parents. It's never an easy road deciding how to best care for the people who used to care for us, and there are plenty of variables that should be considered to ensure that were providing the most comfortable, professional, and healthy environment so they can live out their final years in relative peace. To help you navigate some of the issues you may face in this situation, here are some important tips on managing long-term care for elderly patients, including educated insight from a few experts.
Start with a Family Meeting
The easiest way to get the ball rolling on how you'll best care for your elderly parents is to schedule a family meeting so that everyone who has a stake in this decision is involved. Perhaps this is a meeting that only involves your immediate family if you're an only child, or maybe it needs to include multiple families if you have siblings. Either way, all adult children of the parent have a right to be involved in the process. If possible, this meeting also should include the parent as well. It's their future the family is discussing, so it's ideal to have all hands on deck well before a tragedy leaves the parent incapacitated and the rest of family scrambling for a solution.
Jack Halpern, CEO and founder of My Elder Advocate, has more than 40 years experience in elder care, including executive management at nursing homes, agrees that the parent should be part of the decision making, along with a professional who can remain unbiased."When your parent is in his or her 60s or early 70s, plan to meet with them to begin the discussion regarding their plans for their elder years, he says. Many parents are reluctant to have this discussion. I've found that bringing in a professional helps seniors open up more, and discuss issues that they might be uncomfortable talking about with their kids."
Have Access to Your Parents Medical History
"Elderly parents' health can take a turn for the worse at any moment, and it's your responsibility to be as prepared as possible so they can receive the best care possible. Part of that preparation is to have mom and dad's medical records handy," says Halpern. "This should include diagnosis, medication and allergies, hospitalizations, names of doctors and other health care professionals, lab work, and surgeries. And be sure to keep this information on a USB drive, so that it's easily accessible to doctors in an emergency situation."
Get Their Legal Documents in Order
When you're facing a health scare with your parent, the last thing you'll want to deal with are legal issues regarding the course of their care. Discuss with your parent in advance if they'll allow a responsible family member to have a healthcare power of attorney, also known as a healthcare proxy, so that those important decisions can be made when they arise. Halpern, who has seen his fair share of devastation to families who didn't have documents in order, suggests making this a priority. Start by consulting a trust and estates attorney to help you and your parents with the legal documents. Halpern also suggests you, "Create a living will, which, unlike wills that designate assets after death, details such things as the circumstances in which you wouldn't want a feeding tube to keep you alive; and consider talking to a doctor to decide if you want a do-not-resuscitate order."
Carefully Consider Your Options
Rather than putting your elderly parent in a long-term care facility, you may consider taking on the responsibility of caring for the parent in your home, perhaps with help from other family. But it's important to recognize that this is often an emotional, physical, mental, and financial burden that's better suited for professionals.
April Masini, relationship expert and author of the advice column Ask April, warns against acting impulsively. "While you may think that it's a great idea to move an elderly parent into your home, your spouse may not be on board — or even as on-board as you are," she points out. "As a result, your own marriage may be on the line if you create a relationship obstacle by taking in or taking on an elderly parent, when your spouse is against it."
Tour Facilities to Find the Best Fit
If you decide to go the route of a dedicated long-term care facility for your parent, keep two important questions in the back of your head:
Will my parent receive the best possible care here?
Does this facility provide peace of mind that my parent is being well-cared for?
Steve Moran, publisher and blogger at the Senior Housing Forum, says it's important to understand what good and bad looks like. He also suggests visiting facilities in the morning, late afternoons, and weekends when there is lots of activity, and talking to family members about what they like and don't like.
Be Realistic About Finances
Long-term care facilities aren't cheap, and covering the cost could be a financial burden on you and/or your siblings. Do your parents have long-term care insurance? Do they have ready cash? If not, how will you pay for this? How will the cost affect your finances? There are under-the-radar fees that could drive up costs, so prepare for those as well. For example, Rick Lauber, author of the Caregivers Guide for Canadians notes that, "Private rooms and provided extras such as additional meals, laundry, and haircare can cost a family much more."
Use Parental Assets as a Bargaining Chip
According to Moran, if your funds for long-term care are relatively limited, you can leverage other assets as negotiating tools. "If your parents have just a little in the way of assets, use that as a bargaining chip to get into a better-skilled nursing facility that will continue to care for your parents when the money runs out and their care is covered by Medicaid," he says.
Assign a Main Point of Contact
Once your parent enters a long-term care facility, the most efficient way of managing that care from the outside is to assign a family member as a main point of contact. This may be a touchy subject when there are several people to consider, so try to be democratic and logical in the decision-making process opposed to letting emotions run wild. Of course, other individuals can be involved too, but there should be one main contact for emergencies to ensure they are handled promptly and without confusion. "Be sure to designate a family spokesperson to handle health care matters, as well as the financial and legal side of things," advises Melissa Kahn, principal at Kahn HealthCare Consulting. "By getting more family members involved you can avoid caregiver burnout, mistakes and miscommunication," she says.
Keep Your Parent Socially Active
It's important that your parent stay socially active and otherwise mentally stimulated to ensure the best quality of life, which is why the social aspect of long-term care should be considered when choosing the facility. Important questions you should consider include:
Will your parent get along with the other residents?
Are there events in which they can participate?
Is the staff friendly and engaged?
Is there technology available that allows them to keep in touch with you and other family members?
Recognize and Prevent Elder Care Abuse
Elder care abuse and neglect is an unfortunate reality, so it's up to you to ensure that your parent doesn't become a victim.
"Adult children can educate themselves and their senior parents about their rights, common long-term care scams, and how to avoid them. They can also find out what to do if something is known or suspected to be happening behind the scenes," says Jonathan Rosenfeld, founder and lead attorney at Rosenfeld Injury Lawyers.
He offers a few telltale signs of nursing home/long-term care abuse or neglect:
Tension or frequent complaints by parents about the caregivers/staff
Changes in personality, depression, and withdrawal from normal activities
Weight loss, dehydration, and shortening of muscles due to inactivity
Physical injuries — ranging from bruises and burns to bed sores, falls, and broken bones — with unlikely or unclear explanations
"Knowing the signs and understanding your rights for you and your elderly parents is key to preventing elderly neglect and abuse," Rosenfeld says.
Do you have tips that youd like to recommend on managing long-term care for elderly parents? Let me know in the comments below.
Photo Credit: simaje