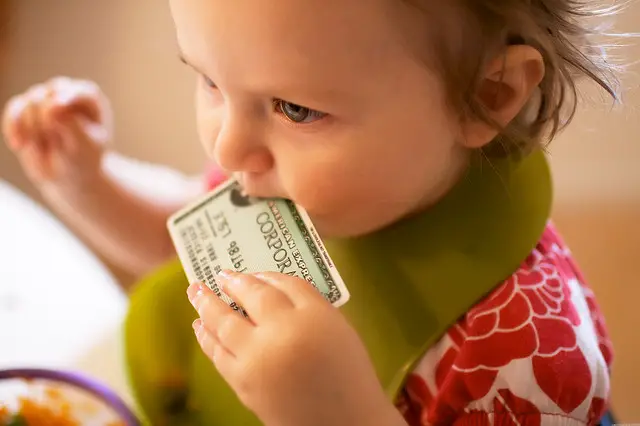 I'm not a parent, so I won't presume to tell you how to raise your child. I can tell you, however, that if your kid has a credit card or you plan to give them one, it's a mistake you (and they) could be paying for well into the future.
No matter how you try to justify it — "it's a different world out there"; "all their friends have one"; "it's just for emergencies" — giving a teenager the privilege of plastic is a bad decision that will cost you and the child more than money and which may have long-lasting, detrimental effects. Thus, think twice about introducing your child to credit with these nine ways it could come back to bite you in the butt:
1. You're Not Instilling the Necessity of Work
From the day I was able to obtain steady part-time employment at 15 years old, I've been working.
I worked multiple retail jobs simultaneously at the local mall before graduating high school; held two jobs concurrently in college, one of which was an eight-hour graveyard shift at a hotel several days a week; and even when I started my professional career, I supplemented my income with part-time jobs and side gigs. Still do, in fact.
Working and making cold, hard cash is in my blood, and it's thanks to my parents. My parents never gave me a credit card, instead telling me that if I wanted something they weren't willing to buy that I had to make money for it. So I did. The need to work was instilled in me early on, and now it's just part of my DNA. That doesn't mean I'm obsessed with work, however; quite the opposite, actually. I work to live, not live to work — a distinction that has a profound effect on the quality of my life.
2. You Kids' Work Ethic Could Be Questionable
If your kid doesn't believe he or she has to work because mommy and daddy funds their life via credit card, there's a very good chance that their work ethic — or lack thereof — may be a tragic consequence. The truth is, nobody wants to work if they don't have to, and if you give your kids even the slightest inkling that you'll take care of them whether they can support themselves or not, there's a high probability that they'll take advantage of that. They're kids, after all, and they're going to push the limits of how much they can get away with. It's up to you to set those boundaries — before it's too late.
3. You're Conditioning Them to Be Materialistic
Listen, I'm the last guy to lecture anyone on being materialistic. I, too, like stuff, but the difference in how I appreciate it and how your kids will appreciate it depends on the method of payment.
It's a psychological fact according to "the science of me" that we hold our cash tighter than we do our plastic. When I have cash in my pocket, I'm more discerning about what I'm buying opposed to when I'm putting it on my card. You and your kids are the same way. One of our natural financial instincts, I suppose.
If your kids learn to earn and use cash for their purchases, they'll likely have a healthy American affinity for material possessions. Giving them credit cards, however, will facilitate overspending on shiny items that will only get worse as they advance in their careers and make more money.
4. They Won't Respect the Fine Print of a Credit Card
How much do your kids care about the fine print when you're footing the bill? About as much as you care about who broke up with whom at lunch today. Your kids don't give a flying squirrel about the APR, late fees, and all the other small-font mumbo jumbo for which you're responsible. And letting them swipe willy-nilly could perpetuate a general school of thought that the fine print isn't too important — "because, like, why would they make it so small?" — which could get them in big financial trouble down the road.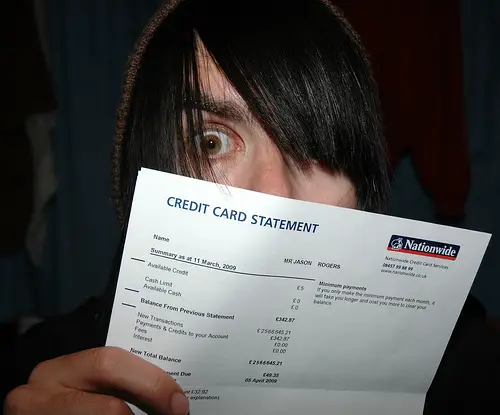 5. They're Going to Break Your Trust by Abusing the Card
I'm not a prophet (well, maybe in my own mind), but I can almost guarantee that if you give your kid a credit card, particularly your college student, they will abuse it. Younger holders of credit cards — high-school age — may face peer pressure that forces them to act a fool with the plastic.
We've all been there: Out shopping with our friends when we see something that we must have, and we want to seem like we can do and buy whatever we want — because we have "cool" parents. Laughable, right? Not to your kid, and when the punishment is handed down you'll be the most vile human to ever walk the earth.
As for your college student, there will be more than one night — especially if they join a social fraternity (trust me; I'm an expert in this field) — where somebody with an "emergency" credit card will need to make an "emergency" beer run. Par for the course; it's going to happen.
Thus, if your kids get to adulthood without abusing the credit card you've given them, I suggest playing the three-digit lottery with the security code on the back of it — because you've got one in a million.
6. They'll Never Learn the Value of a Dollar
The only way to learn the value of a dollar is to attach it to the time and effort it took to make that dollar. If money is handed to you, you start to get the impression that there's an endless supply of it and no need to work for it. You already know this.
Considering that, why does your kid need a credit card? Why isn't he or she working for the money they want and need? Plus, there are other perks to pushing your kid into the workforce when it's legal to do so: The kids get out of your hair for longer periods of time and they can start paying for their own recreational activities and non-necessity items. Not everything, of course — you don't have to be a slave driver — but things like dates should be on them.
When they do start working, you also should open a checking and savings account that they will manage — and that you'll monitor — to provide your teenager with a bit more independence and basic real-world skills.
Enough with that "I want him to enjoy his childhood while he can" nonsense, too. Nobody's childhood is being stolen from them because they have to work 20 hours a week. Don't get soft on me.
7. You Will Have to Bail Them Out Eventually — And Perhaps Often
Because your child will most likely abuse the plastic privilege, at some point you'll have to bail them out. And in doing that just one time, you're sending the message that mommy and daddy will be there to help when the kid makes mistakes and ends up in a financial bind. As a result, the stupid spending could become habitual — as could the burden on you to pay the bill.
Sounds ridiculous, for sure, but I know people who pay the kids' insane charges as a general policy, which only serves to make the parents idiots and the kids raging A-holes.
Nip this practice in the bud before it begins by having a conversation about credit card responsibility and how any non-emergency charges will come out of the kids' pocket by any means necessary. When frivolous charges appear, stick to this policy staunchly and give the child one month to pay off the bill. If at the end of the month you haven't received money for the bill, start selling your kid's electronics on eBay. It'll send a strong message that you're serious about your expectations, so you can hopefully curb the callousness early on.
I know some of you out there probably think this is a bit harsh, so I'll let you in on a little secret: Hurt feelings go away faster than mounting debt. Somethin' to chew on while you think this strategy over.
8. They Will Rely Too Heavily on Credit Into Adulthood
More and more we're moving toward a cashless society, but cash is still king. If you raise your kids using debit and credit cards, that is what they'll rely on too. That's not wholly terrible in itself; personally I rarely use cash, but I also respect money and its power to help move you forward or hold you back.
This is what you need to instill in your children, so they'll respect it too. It's imperative that they know the difference between money in the bank, money in their hand, and borrowed money that they have to pay back. The best way to do this is to avoid plastic cards altogether, at least for the first few years of teaching, and stick with cash (preferably that they've earned).
9. Chronic Debt Could Be a Major Problem Throughout Their Life
The bottom line here is this: It's your parental duty to send your kids out in the world as well-rounded as possible, and that includes having a solid understanding of how money works and the consequences associated with exhibiting a poor work ethic, being a spendthrift, and not appreciating the privilege of credit.
Eventually your kids won't be your problem anymore, but rather the government's — and the latter won't be as easy on them as you are even on the worst day. That's why the responsibility lies with you to steer your kids down the right financial path early in life so they can avoid digging themselves into a debt that will hang a black cloud over their adult lives for an extended period of time, and in some cases forever.
You can't control what they do later in life, of course, but you do have the opportunity to inform their future money matters now. In lieu of credit cards, make them get a job, save for the things they want and need, and stress the importance of not buying what they can't pay for in cash.
That isn't an excessive expectation of a parent or a child — if you dislike being in debt, anyway.
Do your kids have credit cards? How's it going? Any horror stories? Have your kids been responsible? I'd love to hear from you in the comments below.
Photo Credits: (top) _Dinkel_ ; xJason.Rogersx