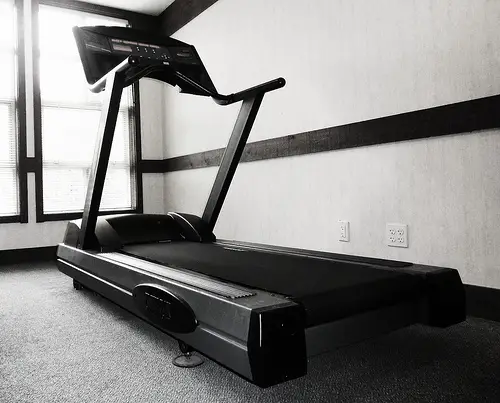 For all of you folks out there who are thinking about getting into shape, I thought I'd pass on a little advice and save you a serious case of buyer's remorse.
Believe it or not, treadmills are the most popular form of exercise equipment, which is probably why the world is full of late-night infomercials and fast-talking salesmen constantly spouting that treadmills are the greatest thing since sliced bread. They're not.
Yes, yes … they're extremely convenient — especially for folks who live in locales with rough winters — but as a former treadmill owner, trust me when I say the cons far outweigh the pros.
In fact, here are 14 reasons why treadmills just aren't worth the money:
They run on electricity. No power; no workout. I know; this one is pretty weak — but as every exercise enthusiast knows, it's important to start your workout session with a low-impact gentle warm-up. Mission accomplished.
They ain't cheap. Top of the line models will cost you upwards of $4000. Yes, you can buy cheaper models. Unfortunately:
Less-expensive models don't last long. That is, unless you use them only for walking; but why would you buy a machine for that?
Sophisticated treadmills are space hogs. The biggest ones are 3-feet by 6-feet and don't fold up.
Swiss watch precision — or bust. For smooth operation, the motor and belt must constantly be in perfect harmony, with just the right amount of friction applied. Otherwise, you've got problems — which is why:
Maintenance is a must. That means constant belt alignment and tightening, lubrication, and removal of dirt and grime, not to mention potential motor replacements.
Accidents. Lots of them. The Consumer Product Safety Commission reported 19,000 emergency room visits in 2009 attributable to treadmills, including broken bones, concussions and amputated fingers. Which is why:
You always need to pay attention. Otherwise, this could happen to you:

They're tough on the body. Even if you're careful, aches and pains often come with the territory because, unlike ellipticals, treadmills put a lot of stress on knee, ankle and hip joints. That's especially disconcerting when you consider:
You burn fewer calories. It's true; at least compared to running outdoors. The moving treadmill belt acts as springboard for your legs so you don't work as hard. Compounding that problem is:
Limited scenery. Because treadmill runners see the same old scene day in and day out, they induce a lot of boredom. That usually leads to shorter runs.
Posture issues. Treadmills — especially the smaller ones — can cause some people to alter the way they walk or run, which often leads to an increased risk of muscle strain and poor posture. Yes, really.
They ain't cheap (Part II). Household electricity costs are approximately $0.25 per hour for a typical treadmill. I realize that's not an earth-shattering complaint, but I'm in my cool-down phase now — so give me a break.
They're a clothes magnet. Now that you've read this, you can probably guess why so many treadmills eventually become nothing more than expensive apparel racks. Too bad hangars are never included.
Photo Credit: metaphoricalplatypus.com