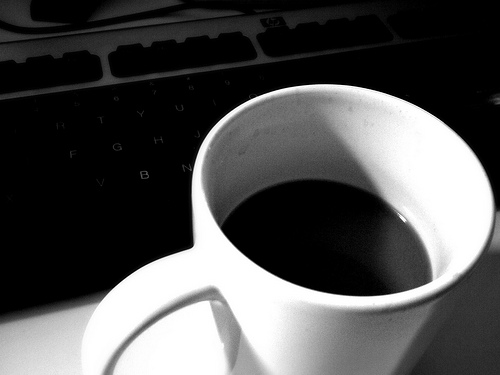 It's time to sit back, relax and enjoy a little joe…
Welcome to another rousing edition of Black Coffee, your off-beat weekly round-up of what's been going on in the world of money and personal finance.
My extremely heavy workload at the office and the obligatory honey-do list is compressing my schedule again, so I've got another "espresso edition" of Black Coffee for you this week. Don't worry; it still has plenty of kick to get those juices flowing.
Okay, off we go …
Credits and Debits
Debit: In 2013, some people misread the tea leaves and mistook big US stock market gains as proof of a coming economic boom — even though they were being artificially supercharged by the Fed's quantitative easing campaign.
Debit: In fact, the skyrocketing stock market and deceptively falling unemployment had others so euphoric that, by the end of 2013, some were predicting that 2014 would be the "Year of the Boom" and a replay of the Roaring Twenties. No, really.
Credit: By December, even the Fed's prognosis was that the economy was back. That led them to finally start tapering their wholesale money printing from $85 billion per month to $75 billion per month, followed by another cut to $65 billion.
Debit: That was then; this is now. Since the Fed started cutting back on the free-money fix that was being used to medicate the markets, stocks haven't been doing so well. For the year, the S&P 500 is down 4% and the Dow is down 5%. Coincidence?
Debit: Meanwhile, January's employment figures are in: It turns out that, for the second month in a row, the number of new jobs created by the US economy wasn't enough to even keep up with population growth.
Credit: Despite the grim job numbers, the "good" news is that the unemployment rate fell again; this time to 6.6% — which just goes to show that the "improving" US economy isn't the only thing that's an illusion. Government economic data still can't be taken seriously either.
Debit: Even so, the alarming unemployment data has some people now forecasting that the Fed will be increasing the quantitative-easing dosage to $85 billion again. You know, so the economy can start, um, "improving."
Debit: On the other hand, I guess if you're among the nearly 25% of all 26-year-old Americans who are still living with their parents, you probably never felt good about the economic "recovery."
Debit: Did you hear about this? The Los Angeles Times is reporting that Obamacare enrollees in California are having a hard time finding doctors to treat them. That's because insurers have put tight limitations on the number of doctors and hospitals available to Obamacare patients in an attempt to keep premiums down.
Credit: It's not just a California phenomenon; it's happening in Oregon too. Of course, those "fear-mongering" Obamacare opponents have prophesied doctor and provider shortages for a long time now. Heretics.
Debit: Nonconformists have also repeatedly warned that Obamacare would be a jobs-killer — although I suspect the IRS probably disagrees. Still, the impact is so bad that the CBO now says Obamacare will eliminate the equivalent of 2.1 million jobs by 2021. Forward!
Debit: Finally … Check out these college students who signed a fake petition to repeal the Second Amendment — and even put legal gun owners in concentration camps. Wow.
Credit: Consider that Reason #2643 why people can't claim they're educated just because they attend a university.
By the Numbers
Presenting the median salaries in 2013 for the top five jobs in terms of opportunity, cushy pay, manageable work-life balance, and security. Can you identify the common theme?
$142,740 Dentist (Unemployment rate: 0.7%)
$65,690 Registered Nurse (2.0%)
$113,390 Pharmacist (3.1%)
$78,770 Computer Systems Analyst (2.5%)
$183,170 Physician (0.6%)
Source: US News and World Report

The Question of the Week
Loading ...
Last Week's Poll Result
Have you ever had fraudulent charges placed on one of your credit cards?
Yes (67%)
No (27%)
I don't own any credit cards. (6%)
More than 200 people weighed-in last week. Believe it or not, two in three Len Penzo dot Com readers have had somebody place an unauthorized charge on at least one of their credit cards. Yikes! If that doesn't give you incentive to always keep close tabs on your credit card statements, I don't know what will. Please, folks, be vigilant! There are a lot of bad people out there who are constantly trying to get something for nothing.
Other Useless News
Here are the top — and bottom — five states in terms of he average number of pages viewed per visit here at Len Penzo dot Com over the past 30 days:
1. New Mexico (2.44 pages/visit)
2. Wyoming(2.05)
3. Arkansas (1.99)
4. Oregon (1.93)
5. Kansas (1.87)
46. Illinois (1.59)
47. Colorado (1.59)
48. Louisiana (1.46)
49. Mississippi (1.43)
50. Vermont (1.31)
Whether you happen to enjoy what you're reading (like my friends in the Land of Enchantment) — or not (ahem, Ben & Jerry) — please don't forget to:
1. Click on that "Like" button in the sidebar to your right and become a fan of Len Penzo dot Com on Facebook!
2. Make sure you follow me on Twitter!
And last, but not least…
3. Don't forget to subscribe to my RSS feed too! Thank you. ๐Ÿ™'
The Way-Back Machine: Past Posts Of Mine You May Have Missed
From February 2012:
A Few Thoughts from Aunt Doris: The Two-Fingered Salute Is a Handy Gesture — Next time you're in jolly ol' England and you need to order two of anything be very careful when using hand gestures to make your point — if you do it the wrong way, you'll end up sending the wrong message.
Letters, I Get Letters
Every week I feature the most interesting question or comment — assuming I get one, that is. And folks who are lucky enough to have the only question in the mailbag get their letter highlighted here whether it's interesting or not! You can reach out to me at: Len@LenPenzo.com
Last week in this space I predicted that the Denver Broncos would top Seattle in the Super Bowl, 23-21. I was close; the Seahawks won 43-8. That prompted Henry to send me this:
"Nice prediction, Nostradamus!"
I know. I just hope this doesn't hurt my chances of getting a side-job working for the Psychic Friends Network.

I'm Len Penzo and I approved this message.
Photo Credit: brendan-c