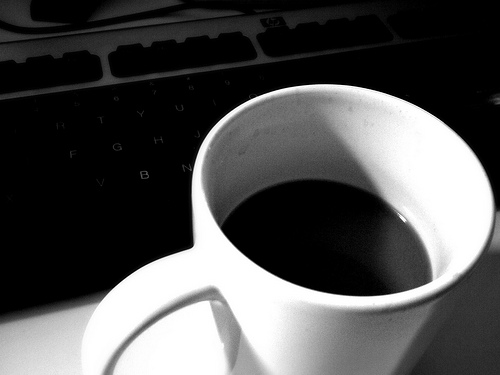 It's time to sit back, relax and enjoy a little joe …
Welcome to another rousing edition of Black Coffee, your off-beat weekly round-up of what's been going on in the world of money and personal finance.
For what it's worth, my (usually) trusty Magic 8-Ball has had mixed results picking the Super Bowl winner. It correctly predicted the Green Bay Packers win over the Pittsburgh Steelers in Super Bowl XLV, but it then followed that up by incorrectly picking the New England Patriots to beat the New York Giants in Super Bowl XLVI.
For some reason, I forgot to ask the 8 Ball for its opinion about Super Bowl XLVII. [Edit: Oops. Upon further review, I did ask the Magic 8 Ball last year — it correctly predicted the Baltimore Ravens' victory over the San Francisco 49ers.]
I didn't make the same mistake for this year's big game between the Denver Broncos and Seattle Seahawks — I asked my Magic 8 Ball if the Seattle Seahawks will win Super Bowl XLVIII. The 8-Ball's response: It is certain.
So there you have it, folks. Call your bookie while you still can.
You're welcome.
Okay, off we go …
Credits and Debits
Debit: The US National Debt is more than $17 trillion — and there is another $87 trillion on the books in unfunded liabilities. In other news, the US has now spent $20 trillion on the poor since Lyndon Johnson launched his "War on Poverty" in 1964. Hmm.
Debit: For what it's worth, in 1964 the poverty rate was 17.3%; it's never been lower than 11.1%. Today the poverty rate sits at 15% — and it's been that way for three consecutive years. Obviously, "the war" has been a total failure.
Debit: Here's another shocker: 56% of all Americans now have subprime credit. Even scarier, nearly half of all Americans are also living from paycheck to paycheck.
Debit: With that in mind, it's probably no wonder that pending US home sales saw their biggest drop since May 2010.
Debit: It may also explain why  Super Bowl ticket sales are dragging. As of Thursday evening, the game was still not sold out — there were more than 10,000 seats available for the big game — and ticket prices are far less than in previous years.
Credit: In spite of that news, the US economy supposedly grew 3.2% last quarter. That's the fastest pace in two years — although for the year, the US economy expanded only 1.9%. Yes, even with the government's growth-friendly revised GDP formula.
Debit: With so many people in poverty or, at best, one missing paycheck from financial calamity, the numbers don't add up. That's because the economy around us is an illusion, dependent on smoke and mirrors bought and "paid" for with billions in monthly fiat being created by the Fed.
Debit: Yes, the Fed is slowly tapering the money printing — it will soon be "only" $65 billion per month — but cash crises are now occurring in emerging markets like Turkey, South Africa, India, and Russia because they've been reliant on the Fed's easy money to keep investments in their riskier economies going.
Debit: Another country affected by the tapering is Argentina, where Christina Fernandez's socialist policies have only served to exacerbate the nation's economic woes. In fact, things are so bad there that the peso was devalued by 15% this week. Meanwhile, inflation is running at 30%. Forward!
Credit: So Argentines are now taking drastic measures to preserve their remaining wealth by buying new cars and real estate. I know what you're thinking: Apparently, it's been illegal to buy gold in Argentina for some time now. Amazing, huh?
Debit: Not surprisingly, Fernandez and her misguided socialist advisors have decided to fight fire with gasoline by implementing price controls on commodities — and that has led to the obligatory shortages of milk, bread, oil and other staples. I know.
Debit: The best way to stop inflation is by increasing confidence in the currency via sharp cuts in government expenditures. However, Fernandez is doubling down on her reckless spending policies; this week she announced that all students in Argentina will receive an $87 monthly stipend.
Debit: There are subtle signs that financial instability may be spreading beyond emerging markets. Since November HSBC bank has been preventing their UK customers from making large cash withdrawals for amounts as low as $8200 if they couldn't reasonably explain why they needed the money. Huh?
Debit: Of course, HSBC's behavior should be a reminder to everyone that any cash they willingly deposit in a bank belongs to the bank. It's true. Depositors are unsecured creditors — and last in line for reimbursement in the event of a bank failure.
Credit: Then there's this: A prominent Harvard economics professor wrote a piece on PBS this week announcing that he is withdrawing almost all of his money from Bank of America — more than $1 million — because it's no longer worth the risk. I agree.
Debit: Speaking of economists, here's another potential omen: On Thursday, a former Fed member killed himself by jumping off a 50 foot embankment in Washington state; he was the third bank executive to commit suicide over the past week.
Debit: If you think this is going to end well, you're in for a rude awakening. The piper will be paid. In fact, I suspect when the illusion is finally broken and the world's financial books are balanced to reflect economic reality, the living standard of most Americans will fall by at least one-third.
Credit: Finally … An ape at a Salt Lake City zoo predicted this year's Super Bowl winner; according to him the Seattle Seahawks will be hoisting this year's Lombardi Trophy. Don't laugh — that ape and my Magic 8 Ball are on the same page.
Credit: By the way, that big ape doesn't monkey around: He has correctly picked the winner for six consecutive years now. I say his streak ends this year; Denver will win, 23-21.
By the Numbers
Here are a few facts on this year's Super Bowl between the Denver Broncos and Seattle Seahawks:
208 million Avacados that will be consumed during the big game.

1.25 million Chicken wings that will eaten.

57 Percentage of people who like to dip their wings in ranch dressing.

35 Percentage of folks who prefer bleu cheese dressing over ranch.

26 Percentage of people who admit they pray for God to help their team.

25 Percentage of people who believe their team has been cursed.

2 Times Seattle has been to the Super Bowl, including this one. (They lost to Pittsburgh in Super Bowl XL, 21-10.)
7 Times Denver has been to the Super Bowl, including this one. (They have two Super Bowl wins, in 1997 and 1998.)
$92,000 This year's bonus for the each player on the winning Super Bowl team. (The losers will get $49,000 each.)

$1.85 billion Amount spent on Super Bowl advertising over the past decade.

$4 million Price for the most expensive 30-second Super Bowl television ads this year.

Source: Metro
The Question of the Week
Loading ...
Last Week's Poll Results
Which way should the toilet paper hang on the roll?
Over (76%)
It doesn't matter. (16%)
Under (8%)
More than 300 Len Penzo dot Com readers participated in this week's survey and an overwhelming majority prefer their toilet paper hanging over the roll (closer to the john), rather than underneath the roll (closer to the wall). I heartily agree. By the way, I did receive an email from a cat owner who said that although she agreed that TP should normally hang over the roll, she hangs it the other way because it thwarts her cat's attempts at unraveling the roll. (Heh. The things I learn from my readers.)
Other Useless News
Programming note: Unlike most blogs, I'm always open for the weekend here at Len Penzo dot Com. There's a fresh new article waiting for you every Saturday afternoon. At least there should be. If not, somebody call 9-1-1.
Hey! If you happen to enjoy what you're reading — or not — please don't forget to:
1. Click on that "Like" button in the sidebar to your right and become a fan of Len Penzo dot Com on Facebook!
2. Make sure you follow me on Twitter!
And last, but not least…
3. Don't forget to subscribe to my RSS feed too! Thank you. 🙂
Top 25 Referrers for January

It's the first weekend of the month, which means it's time once again to thank the top 25 referring websites to Len Penzo dot Com.
1. MSN
2. Globe and Mail
3. Home Tips World
4. Kiplinger
5. Rock Star Finance
6. Budgets Are Sexy
7. TNT Dinar
8. Wisebread
9. Lifehacker
10. Business Insider
11. Deseret News
12. The Simple Dollar
13. Money Talks News
14. Baby Center
15. Budgeting in the Fun Stuff
16. Save Outside the Box
17. Afford Anything
18. Don't Quit Your Day Job
19. Quest for $85,000
20. Money Crashers
21. Money Living
22. Street Smart Finance
23. Plutus Awards
24. Getting a Rich Life
25. Financial Uproar
Thank you to everyone who refers their readers to this little ol' blog! It's much appreciated.
The Way-Back Machine: Past Posts Of Mine You May Have Missed
From January 2009:
Got a Fixed Rate Mortgage? Root for High Inflation. – This is one of the first articles I ever wrote for this blog. At the time, and as I note in the article, I was still an advocate of paying off the mortgage early. However, you could also tell that the government's inability to rein in its spending had me second-guessing my position.
And Here's Some Other Articles You Might Enjoy …
Squirrelers – It's Expensive to Impress Other People!
Budgets are Sexy – Treat Savings as a Bill
Don't Quit Your Day Job – Looking for Stock Market Predictions? Go Long!
Budgeting in the Fun Stuff – If I Could Write a Letter to Me
Barbara Friedberg Personal Finance – Speculative Investments: What Percentage Should I Invest?
Letters, I Get Letters
Every week I feature the most interesting question or comment — assuming I get one, that is. And folks who are lucky enough to have the only question in the mailbag get their letter highlighted here whether it's interesting or not! You can reach out to me at: Len@LenPenzo.com
Uh oh. Apparently, The FBI has been keeping tabs on me — and now they want some answers:
"Sir, we have logged your IP address on more than 40 illegal websites. Please answer the attached questions …"
Hold on now. I can assure you that any dubious mp3 files I may have, er, accidentally downloaded long ago from any nefarious websites were only used for a school research project.
I'm Len Penzo and I approved this message.
Photo Credit: brendan-c