It's time to sit back, relax and enjoy a little joe…
Welcome to another rousing edition of Black Coffee, your off-beat weekly round-up of what's been going on in the world of money and personal finance. Here's what caught my attention over the past week…
So I'm checking out the personal finance blogosphere on Friday and I noticed that,  for some reason or other, everybody decided to write about water.   WTF?   (Please, no more letters.   That means "What the fudge?"   It does.   No, really.)
It's almost as if there was some organized vast left-wing conspiracy thingy, or something.
What's really strange is last year on October 15th, I got a hare-brained idea to write an ill-advised post about about global warming, only to find out thousands of other bloggers did the same thing – except they all called it "climate change."
Whatever.   Let's get to the posts.
By the way, I'm in a hurry, so the smarmy commentary is on (almost) on hiatus this week.   Please hold your raucous applause until the end of the column – assuming you have the fortitude to get that far.
Blogs I've Been Following This Week
Free From Broke – I'm Sick of Hearing It's For the Kids.     The best article I read all week.
Wisebread – 5 Ways to Spend Less on Fido and Fluffy.   One of the tips here was to potty train the cat.   If memory serves me correctly, my Aunt Doris had a cat that not only used the toilet to do its dooty, it also flushed.     Why is it some people can teach their cats to always flush a toilet, but I am still having trouble getting my kids to remember to do the same?   I mean, how do you "forget" to flush a toilet?   I hate being hit with a "surprise" in the bowl every time I walk in the bathroom to wash my hands or, well, you know.   Wow, how did I get on this topic?   This is supposed to be a personal finance and money blog.   Focus, Len.   Focus…
Wealth Pilgrim – Finding a High-Paying Second Job Using Craigslist.   I know.   I thought "High-paying Second Job" and "Craigslist" were mutually exclusive terms too.
Budgeting In the Fun Stuff – Bottled Water.   Mrs. BFS is feeling guilty about drinking bottled water every once in a while.   Oh, wait a minute; no she's not.     Good for her.
…And Here's Some Other Posts You Might Enjoy:
Millionaire Nurse Blog – 8 Things Going Up In Price, and What You Can Do.
Hope to Prosper – Imagine a Life Without Debt.

Financially Poor – Financial Freedom and the Grocery Store
Yakezie – Top Personal Finance Sites.
Money Beagle –   Ways We Conserve Water… And Ways We Could Do Better.     Believe me, I'm no environmental zealot, but one of my biggest pet peeves is when people leave the water running when they brush their teeth.   I mean some folks use two or three gallons of water just to brush their teeth.     Then again, with the price of tap water less than a penny a gallon – even here in Southern California – it's really no wonder.
Car Insurance Comparison – Six of the World's Worst Drivers.   All of them women, I'm sure.   (Now, now, ladies; that's just a joke.   Send your angry letters to Len@LenPenzo.com.)
Money Green Life – Avoid Accidents By Improving Defensive Driving Skills. Obviously, the drivers featured above didn't read this before they got behind the wheel.
Spotlight – The 10 Most Important Guidelines to Investing.
Young and Thrifty – 6 Free Apps That Will Make Your Personal Finance Life Easier.  
The Centsible Life – Savvy Savings Products for Kids.
Bucksome Boomer – 10 Pantry Essentials.
Military Wallet – How to Redeem U.S. Savings Bonds
The Way-Back Machine: Past Posts Of Mine You May Have Missed
From February 2010:
Taste Test Experiment:   Bottled Waters vs. Filtered Tap – Hey isn't this a post about… Never mind.   When I was a kid back in the 1970s most everybody drank water from their tap.   Not anymore.   In another one of my blind taste-test experiments, my distinguished panel of experts weighed in on what tasted better.   Which one do you think came out on top?   I bet your wrong!
Credits and Debits
Debit: I notice that, last week, New York City's teacher's union representing 351,000 people asked for – and received – waivers to be exempted from Obamacare.   According to USA Today, the exemptions waive rules "intended to keep people from having to pay for all their care once they reach a preset coverage cap."
Debit: Here is an excerpt from the website Big Government, which notes the very sad irony here:
"The United Federation of Teachers, the New York City branch of the American Federation of Teachers, which pushed ardently for ObamaCare has now requested — and received — a waiver from its mandates.
"The UFT is a member of New York State United Teachers (NYSUT).   In September 2009, the NYSUT's website published 'Health care reform: facts vs. myths.' Here's an excerpt:
Myth: Health care reform will force you out of your current insurance plan or force you to change doctors.
Fact: You can keep your existing insurance; reform will expand your medical options, not eliminate them.
"ObamaCare was such a great idea at the time –  the AFT gave hundreds of thousands of dollars to Healthcare for America Now, the leading organization pushing for the government takeover of health care."
Credit: I know.   How about some good news.   This week the Dow Jones Industrial Average climbed above 11,000 for the first time in five months.
Debit: After three weeks of declining applications for unemployment benefits, the Labor Department announced this week an increase of 13,000 to a seasonally adjusted total of 462,000 claims.
Debit: Meanwhile, Gallup reports that the underemployment rate – which counts both unemployed and involuntary part-time workers – remains stubbornly high. As of October 10th it was still in a virtual holding pattern at 18.4 percent.
Debit: So what. pray tell, is driving the Dow? Is it expected earnings? Maybe but, as BloggingStocks reminds us, because 70 percent of our economy is driven by consumer spending, it is not wise to expect corporate earnings to grow as long as underemployment remains high.
Credit: The solution, of course, is to stimulate job growth. The best way to do that is to ensure taxes are as low as possible so that consumers will have more money in their pockets to purchase goods and services, and so corporations and small businesses can use their tax savings to grow their companies – as opposed to the Federal government.
Credit: It's time we get back to the basics that made this country great: Less government. Lower taxes. The promise of individual liberty for all and – most importantly – a Federal government that is beholden to the rights of the individual states.
Debit: Over the past 80 years or so, this country got away from a society that strove to provide equal opportunity for all – as our Founding Fathers intended – in favor of one that now tries to level the playing field by forcing equal results for all. The former rewards hard work and innovation, and ensures a higher living standard for everyone; the latter does the exact opposite.
Debit: It's too bad the majority of our current representatives in Congress feel the best way to get us out of this economic malaise is simply more deficit spending and growing the government. Talk about a lack of ideas.
Debit: Instead of enacting legislation and policies that will create jobs, their only solution seems to be extending unemployment benefits from 26 to 99 weeks. According to the Associated Press, those extended benefits cost $70 billion per year.
Debit: By the way, IRS data shows that thousands of millionaires collect unemployment benefits annually. In 2008 alone, millionaires claimed over $18 million in jobless benefits.
By the Numbers
For those of you trying to remember what it was like in the "good ol' days," here was the state of the US economy on January 3, 2007 – the day Democrats took control of both houses of Congress. Unless otherwise indicated, the data comes from The American Spectator.
4.6% The unemployment rate. It is now 9.6% – three percent higher than the average unemployment rate during the recession.
$161B The annual deficit for fiscal 2007, the last budget adopted by the Republican-controlled House of Representatives. The annual deficits for the past two years have been over a trillion dollars each.
52 The number of consecutive months of job creation.
12,474 The closing level for the Dow Jones Industrial Average.
Other Useless News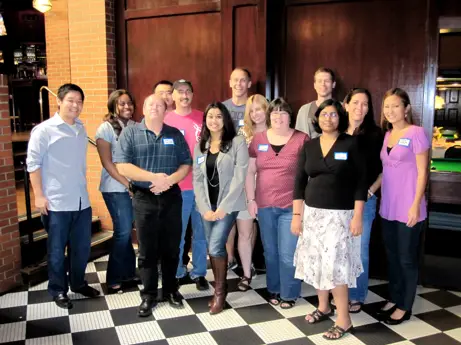 Last weekend we had our first Southern California Personal Finance Bloggers get-together at Dave & Busters in Irvine.   I had a great time meeting my fellow bloggers including Danielle, Briana, Zuli and Henry from Go Banking Rates – who pulled out the company credit card and sponsored the food and drinks for everyone! –   and Erica from Erica.biz, Kay Lynn from Bucksome Boomer, David from MoneyNing, Bret from Hope to Prosper, Ninja from Punch Debt in the Face, Suba from Wealth Informatics, Christina from Money Funk, and Matt from Bruce Bucks.     In fact, we had so much fun we're meeting again next month!
Last week I also wrote an article for American Express' new Currency website entitled Four Lessons I Learned on the Worst Vacation of My Life. If you are interested in the nightmarish trip I took to the Bahamas with an ex-girlfriend of mine, then be sure to check it out. At the very least you might be able to learn from some of my mistakes leading up to that trip from hell. (Or should I say trip to hell?)
Also, my friend Tom over at the world famous Canadian Finance Blog has introduced a new personal finance site called Money Index that is intended to provide you with a list of some of the best personal finance websites and their latest articles.   It's a great way to keep track of what's going on in the world of personal finance.
Finally, my 1997 Honda Civic rarely fails me but it did this week.   My check engine light lit up this Friday while driving home from work.     Almost simultaneously, my speedometer started going haywire (wildly swinging from 0 to 120 mph – honest, it wasn't my driving!) and my dashboard and headlights started pulsing bright and dim, bright and dim.     I bet the drivers in front of me weren't too happy – they probably felt like they were in a dance club.   Anyway, that can't be good, so I am taking my faithful friend in to see what the problem is right after I'm done writing this column.   Hopefully, it isn't too expensive.
Here's a friendly reminder for ya: if you happen to enjoy what you're reading – or not – please make sure you follow me on Twitter. And, if you'll be so kind, don't forget to subscribe to my RSS feed too! 🙂
Letters, I Get Letters
No letters this week, but if you have a question you'd like to ask, or a comment you'd like to make regarding some of my irritating opinions (assuming my web host provider, Mud, manages to keep its servers up and running), please feel free to drop me an e-mail at: Len@LenPenzo.com
I'll feature the most interesting question or comment I get each week here on Black Coffee — assuming I get one, that is.
If you're lucky enough to be the only question in the mailbag I'll highlight your letter, whether it's interesting or not. 😉
Carnival News
This week I had articles featured at the following carnivals:
(No carnivals again this week! I know, I'm bad.)