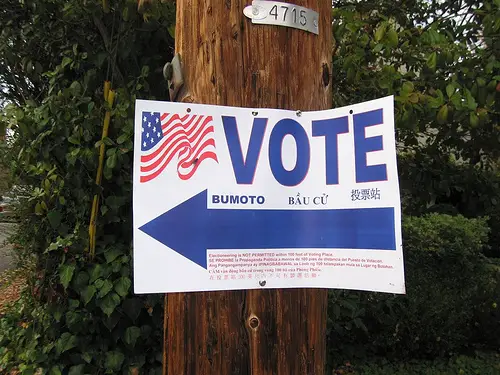 I love autumn.
I mean really; what's not to love about it?
Milder temperatures, cooler evenings, beautiful colors and, um, a never-ending stream of shameless cut-throat political advertisements. At least during election years.
And while an informed electorate is absolutely essential for ensuring the health of our republic,it's just as important to make the right decisions when it comes to your personal finances.
So, with that in mind, I developed the following handy personal finance voter guide:
Proposition 1: THE PERSONAL FINANCES IGNORANCE ACT
Ballot Summary: This act provides additional free time to household CEOs that choose to forgo the work required to maintain a proper budget.
Vote "Yes" If: You've got a mind like a steel trap when it comes to tracking expenses — or the bank account of Warren Buffett.
Vote "No" If: You're living on a modest income and want to maintain a sense of financial discipline.
Proposition 2:THE BUY NOW AND WORRY ABOUT THE CONSEQUENCES LATER ACT
Ballot Summary: This act encourages consumers to buy goods and services on credit when they are unable to pay off the balance in full at the end of the month.
Vote "Yes" If: You don't mind potentially becoming an indentured servant to your credit card company.
Vote "No" If: You have no desire to sacrifice your future financial flexibility in exchange for impulsive short term gratification.
Proposition 3: THE TRUST YOUR CREDIT REPORT TO BE ACCURATE ACT
Ballot Summary: This act reinforces the public's indifference toward checking personal credit report information at least once per year.
Vote "Yes" If: You don't mind paying for unwarranted higher interest rates — or letting identity thieves leech off your good credit.
Vote "No" If: If you truly value your credit rating.
Proposition 4: THE PAY YOURSELF FIRST ACT
Ballot Summary: This act makes it mandatory for people to save a portion of their income in a savings or retirement account each month before they pay any of their bills.
Vote "Yes" If: You are serious about building your savings as quickly as possible.
Vote "No" If: You don't mind the thought of working into your 70s.
Proposition 5: THE HOUSEHOLD BUDGET ARMAGEDDON ACT
Ballot Summary: This act would give full and unconditional pardons to the Four Horsemen of Personal Finance.
Vote "Yes" If: You enjoy the struggle to stick to your budget and/or make ends meet.
Vote "No" If: You want to free up a significant amount of income for more important things, like your nest egg.
Proposition 6: THE WINDFALL SPENDING ACT
Ballot Summary: This act would make it a crime to devote any portion of a cash windfall to retirement and other savings accounts, or eliminating debt.
Vote "Yes" If: You are not only debt free, but you've already got more than enough saved up for your retirement.
Vote "No" If: Financial freedom is your number one priority.
Proposition 7:THE STORE-BRAND LABELS ARE FOR CHEAPSKATES ACT
Ballot Summary: This act will provide unspecified funds for a commercial campaign produced by a washed-up television actor nobody has ever heard of proclaiming store-brand labels to be inferior to their name-brand counterparts.
Vote "Yes" If: You're afraid you'll lose your "street cred" if you get caught with store-brand label groceries in your shopping basket.
Vote "No" If: You're a savvy shopper who realizes that store-brand labels often offer equivalent taste and quality for as much as 40% less.
So there you have it. And although you won't find these propositions on your local election-day ballot, you will end up voting on them — with your wallet.
Photo Credit: Ho John Lee