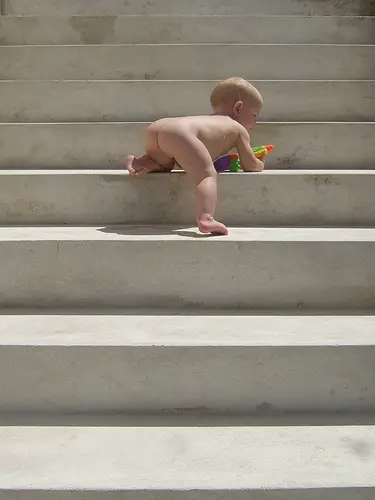 Many folks looking for a way to get out of debt and achieve financial freedom eventually gravitate to financial expert Dave Ramsey's Baby Steps program.
One thing is certain: There is no denying Ramsey's seven-step plan has helped many people get out of debt over the years. However, I still believe it offers plenty of dubious advice.
So what, exactly, are Dave's seven baby steps?
Well, here they are — along with my assessment of each:
Step 1: Save $1000 to start an emergency fund
Ramsey's Reasoning: Establishing a $1000 emergency fund will protect you from acquiring new debt due to unforeseen circumstances while you're working off existing debt.
Do I agree with Dave? No.
Why or why not? As long as you still have available credit, paying down your high-interest credit card debt should be priority-one.
My two cents: If I was deep in debt — but still had available credit to tap — I'd skip this step and rely on my credit card for those rare emergencies.
Step 2: Pay off all non-mortgage debt using the Debt Snowball method
Ramsey's Reasoning: Paying off debt is all about staying motivated; the debt snowball provides the inspiration required to keep yourself committed to the debt-elimination process.
Do I agree with Dave? No.
Why or why not? Even Ramsey admits that his debt snowball method makes no sense. That's because it retires IOUs from smallest balance to largest, without regard to interest rates, in order to create the illusion you're making quicker progress; you'd be better off paying down debts with the highest interest rate first.
My two cents: If you're truly committed to getting out of debt, why squander your hard-earned money on financially-inefficient psychological gimmickry?
Step 3: Save three to six months of expenses in a money market account
Ramsey's Reasoning: Once your non-mortgage debt is retired, it's time to focus on building enough savings to provide a financial buffer to handle unforeseen life events.
Do I agree with Dave? Yes.
Why or why not? It's hard to argue against the importance of a robust emergency fund to handle major financial setbacks resulting from the loss of a job, health issues, and accidents.
My two cents: I keep my emergency and rainy day savings in a high-yield account for better transaction flexibility.
Step 4: Invest 15% of household income into Roth IRAs and pre-tax retirement
Ramsey's Reasoning: After you've paid off the last of your non-mortgage debt, it's time to focus on your long-term financial security in retirement.
Do I agree with Dave? Yes … and no.
Why or why not? Like many financial rules of thumb, Ramsey's 15% one-size-fits-all recommendation cannot be reasonably applied across a broad spectrum of individual circumstances.
My two cents: The amount of money you ultimately decide to contribute towards your retirement depends when you start saving and your target retirement age.
Step 5: Save money for the kids' college fund(s)
Ramsey's Reasoning: I can only assume Ramsey believes parents are obligated to pay for their kids' college educations.
Do I agree with Dave? No.
Why or why not? Simply put, your offsprings' college degrees won't help you during your retirement.
My two cents: My kids' college educations are their responsibility, not mine. Yes, I'll help them out a bit when the time comes — but only if they stay away from a college degree that's not worth the money.
Step 6: Pay off the mortgage early
Ramsey's Reasoning: Free-and-clear home ownership, of course.
Do I agree with Dave? No … and yes.
Why or why not? Believe it or not, there are times when it makes sense to not pay off the mortgage early — even when you have the money to do so.
My two cents: Yes, paying off the mortgage provides peace of mind. However, the declining value of the dollar means those with low-interest loans have an equally valid reason for keeping their mortgage as long as possible.
Step 7: Build wealth and give
Ramsey's Reasoning: Build enough cash reserves for charitable contributions and inheritances.
Do I agree with Dave? Yes … and no.
Why or why not? Come on now. Who doesn't believe that giving money to charity is a good thing? Oh, yeah; this guy doesn't.
My two cents: Despite what Scrooge thinks, our society depends on charitable donations. On the other hand, I'm not as sold on the virtues of working to fund my kids' inheritance.
Ramsey's Baby Steps plan tackles debt from an emotional perspective. As a result, the plan's initial steps are financially inefficient. Even worse, the latter four steps make assumptions that may not be in your best financial interest.
That being said, it doesn't mean this plan won't work. The ultimate decision, of course, is entirely up to you.
Photo Credit: Chalky Lives