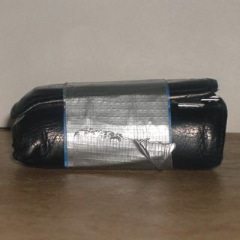 A while back I ran into this cool site that is devoted to the wondrous and wacky world of duct tape.
Duct tape was first created and manufactured in 1942 to keep moisture out of World War II soldier's ammunition cases. The tape was originally known as "duck tape" because the tape was made using cotton duck cloth.
After the war was over, the tape was used in the housing industry to connect heating and air conditioning duct work together. The color was eventually changed from the Army's camouflage color to silver to match the duct work and people started referring to duck tape as "duct tape."
Today, duct tape is used for almost anything you can think of, from making lawn furniture and removing lint from clothes to patching holes in boats and using it to help lift and separate when a bra is not practical.
In fact, if your personal finances are in need of a bit of a fix, duct tape can even help you there.
But, Len, how in the world can duct tape fix my personal finances?
It's really not rocket science, folks. Here are four ways you can use duct tape to "fix" your personal finances.
1. As a Tool to Help You Stop Overspending
Do you find yourself having trouble, um, sticking to your budget? Well, here is an elegantly simple wallet lock I made using duct tape to fix that problem.
By the way, that is a photo of my wallet. I've had my faithful friend for many years and I don't plan on getting rid of him anytime soon. After all, it's as comfy as an old pair of slippers..
2. As a Clever Way to Smuggle Cheap Snacks
A reader named Katie at Aunt Dinah's Duct Tape Diner noted she saved money every time she went to the movies by wearing baggy clothes and then duct taping "soda, candy and large bags of Cheetos" around her ankles, stomach, and other, um, places. As an added bonus, Katie noted that it "also makes for hairless ankles once the tape is removed!" Yee haw! I wouldn't recommend trying this same money-saving trick at the airport though. (Er, unless you're the type that really enjoys surprise body cavity checks.)
3. As a Money-Saving Green Insecticide
Do you realize how expensive a can of Raid is these days? Thank goodness another clever reader at the Duct Tape Diner known as Jeff discovered that he could use duct tape to make an Earth-friendly green insecticide and save lots of money in the process. I'll let Jeff tell his story:
"One night I was outside with my family enjoying the beautiful night air when, all of the sudden, a bunch of mosquitoes started eating us alive! So ya know what I did? I went and got a tennis racket and wrapped it with duct tape, sticky side out, and flung it around at the mosquitoes! Believe it or not, it took care of most the pest problem!"
Heh. Who says American ingenuity is dead?
4. As an Aid to Building a College Scholarship Fund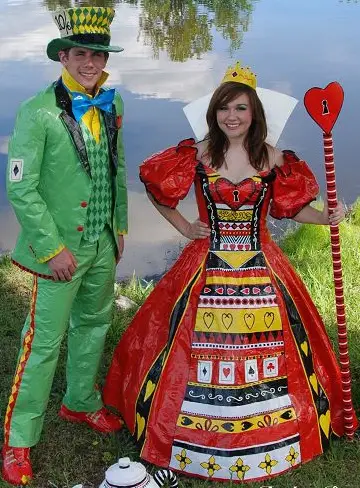 Believe it or not, Duck Brand duct tape has held an annual contest known as Stuck at the Prom where they give away college scholarships to high school prom couples who are judged to have created the best prom attire made entirely of duct tape. I'm not kidding. Of course, the couple is also required to attend the prom in their unconventional attire but considering the stakes, I think it's more than worth it. This year, Duck Brand gave away $10,000 in scholarships to the lucky winners. The happy couple you see here were thesecond place winners from way back in 2009. (You can click here to see the 2017 victors.)
So there you have it. Yet more proof that duct tape can fix just about anything — including your personal finances.
Photo Credits: Len Penzo; Duck Brand Duct Tape